When is the next meeting?
Meetings will be held twice a month during the school year. Our next social/meeting will be on April 26, 2002, location TBA. Email us for directions and info!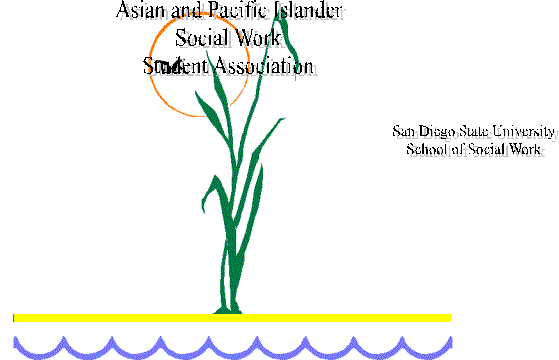 Upcoming Events!
--------------------
Diversity committee invites you to
SDSU's School of Social Work presents
2nd Annual All School Day
March 21. APISWA will have a booth/table.
Please help with making a cool banner
--------------------
The First Annual APIA Heritage Month Festival is Memorial Day weekend, May 25-26 @ Balboa Park. As a member org, we were allotted an information booth free of charge for both days. If you are in town, please volunteer your time to staff the booth. It's a great opportunity to recruit new API students into our noble and rewarding profession and to show the community that "YES!" you can make a great living being a social worker!

(Does everyone have their APISWA tshirt to wear??) Please mark it on your calendars now, and we will solidify time slots at our next few meetings.
-------------------

Remember, bowling night on Friday, March 15th on campus.
------------------
THE SHIRTS ARE IN! They will be distributed during the party on Friday


Action item: One of our projects this year is to have a comprehensive list of Asian-related services in San Diego County (besides just UPAC!). If anyone has any contacts, ie. Asian counselors, please email apiswsa@yahoogroups.com.
---


San Diego County API groups/agencies are forming the API Alliance, a coalition of all the groups. Cathreena and Kirin are directly involved in the planning for this coalition.